I've been DYING to to share this party with you and I'm SO excited to finally post it! It's a little late because I just got back from being on vacation in Jackson Hole for a week AND I entered the party in a contest over at the amazing entertaining website, Pizzazzerie and we had to wait until the winners were announced before posting the designs on our own blogs. And No, I didn't win 🙁
I decided I wanted to have a party for my son Jackson and his friends to celebrate the end of school/beginning of summer. We live in Utah so we're nowhere near a beach, but I wanted that theme because when I think of summer, I think of the beach! And, my 8 year old LOVES sharks, so I thought we could use both ideas for the overall design. I found an invitation on Etsy designed by Sarah at Chachke Designs that was exactly what I was looking for – I seriously loved it!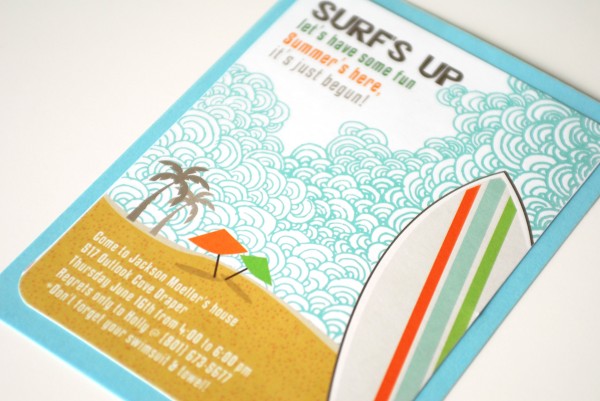 I came up with the idea of having surfboards for the backdrop of the dessert table and thought I could easily make them out of cardboard. My husband quickly responded that cardboard simply wouldn't work and that we needed to make them out of wood. So that's what we did! We cut 8 foot tall surfboards out of plywood with a jigsaw and then painted them fun stripes in the colors I had decided on for the party…orange, blue and green. Most of the paint came from the 'reject' paint cart at Home Depot, so it was really cheap! They took a little time to make, but I thought they turned out GREAT!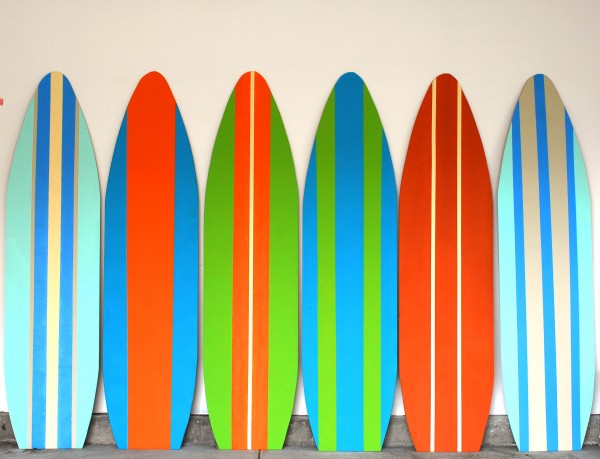 For the main table, I used a white tablecloth with a simple blue net as an overlay to give it more of a beachy feel and created the "Hit the Beach" banner out of scrapbook paper. I couldn't find printables to match the theme/colors exactly, so I created the dessert labels myself using a digital paper design. But, Sarah (who made the invitation) now has matching printables, so you can order everything for your party from her!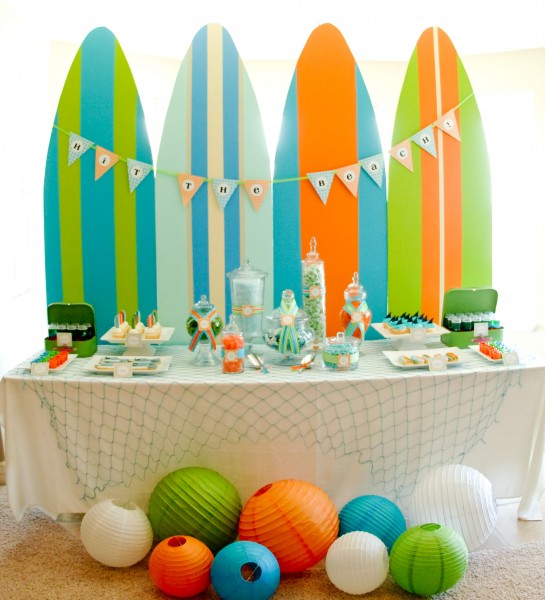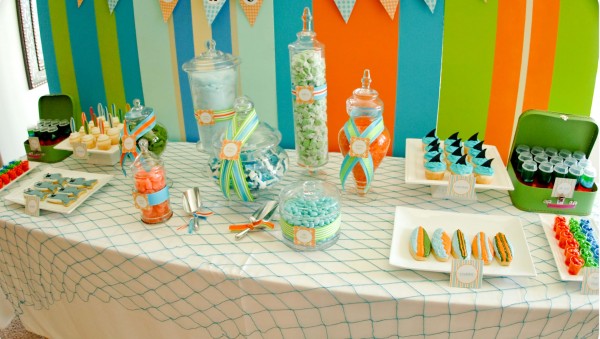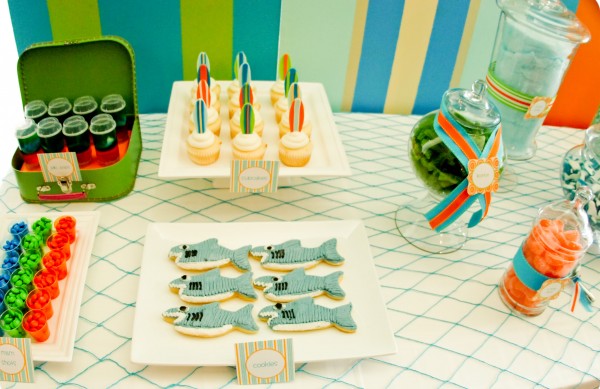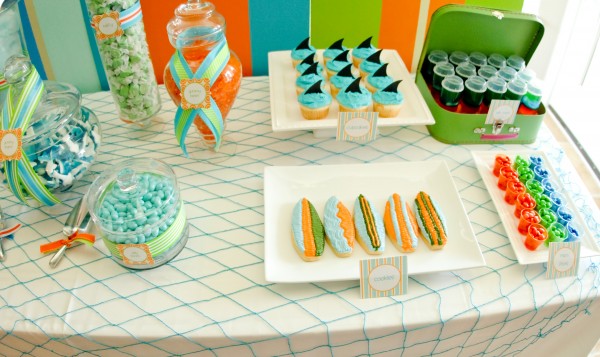 For the center of the dessert table, I filled my apothecary jars with candy in the same 3 colors, with striped ribbon to match…orange slices, peach gummy bears, gummy sharks, cotton candy, blue raspberry jelly beans, green apple licorice and lime taffy. The kids took home a treat bag filled with whatever candies they wanted from the table.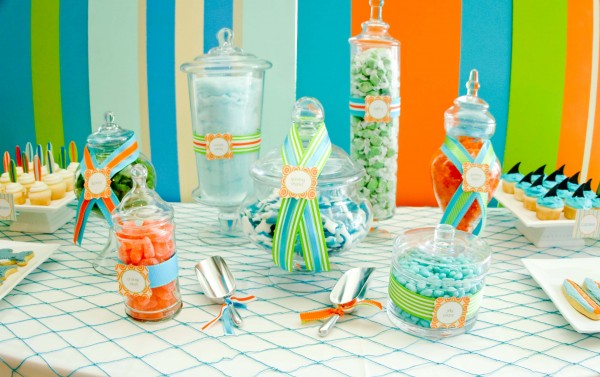 For the desserts, I went to my wonderful cake designer, Sprinklebelle Cakes, for some fondant surfboard and shark cupcakes. I sent her a picture of the surfboards and just told her to make something that matched the colors, and as usual, I absolutely LOVED them!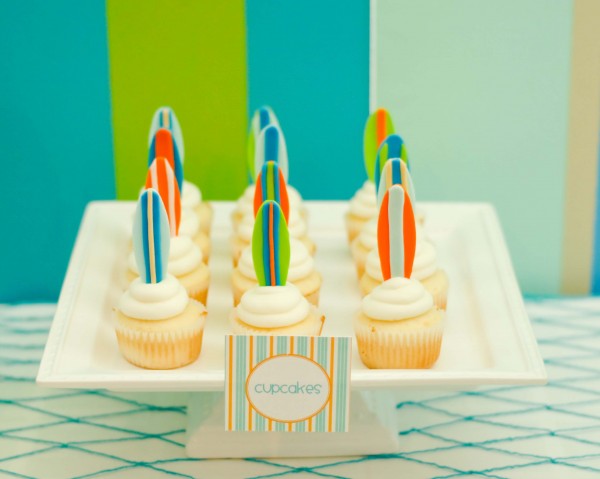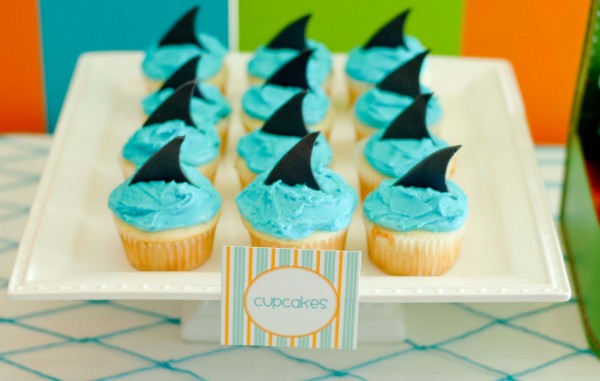 Push pops are all the rage lately and I knew I wanted to use them in my table. I created layers of orange, green and blue jello in the push pops with a gummy shark in the blue layer. The pushpops were displayed in fun green cardboard suitcases.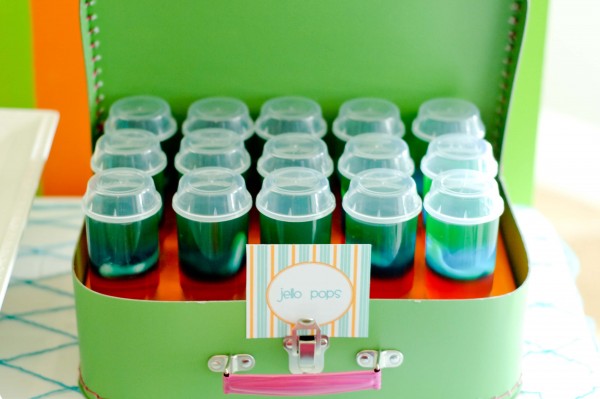 I found plastic shot glasses in the exact colors of my party at Dollar Tree and knew I had to use them for something…M&M shots is what I came up with – the kids thought they were great!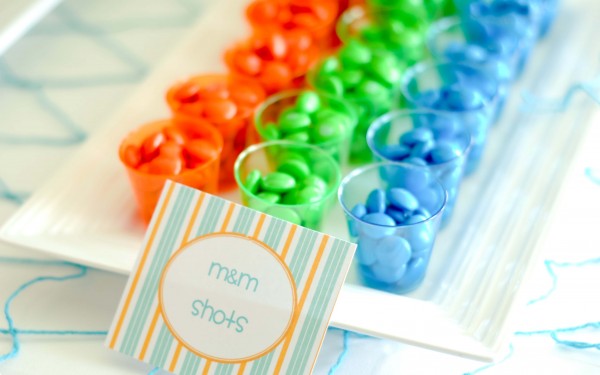 I also had a local lady make the wonderful shark and surfboard sugar cookies with buttercream frosting and they were as yummy as they look! The details of the sharks were just amazing!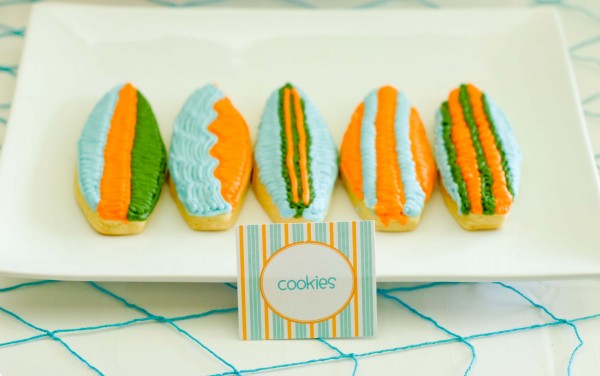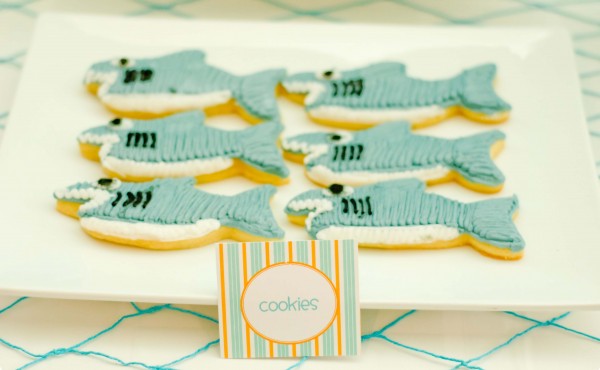 I had another small table to hold the party food…hot dogs, chips, fruit, nutter butter flip flop cookies, drinks and paper products.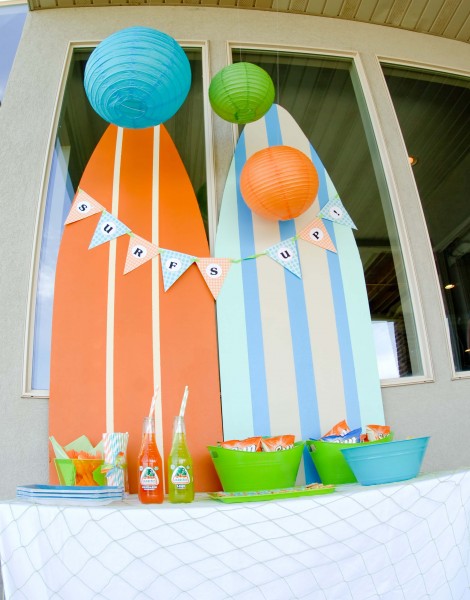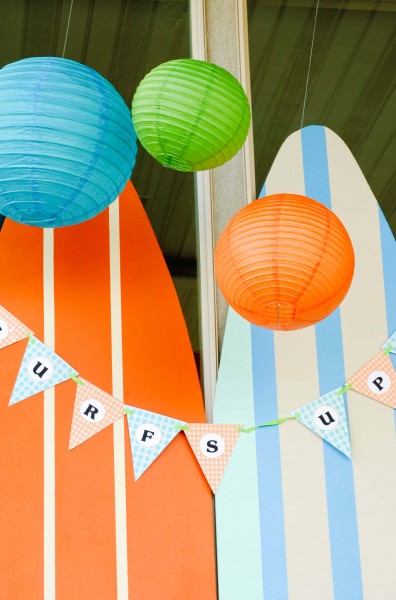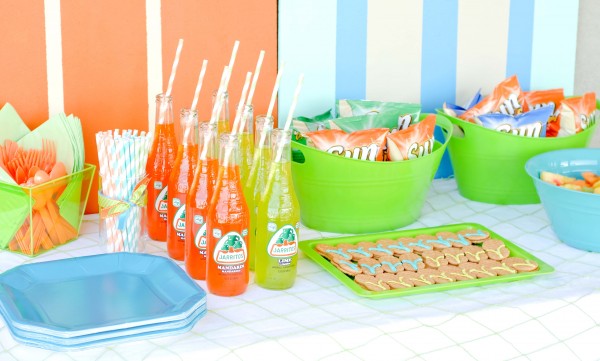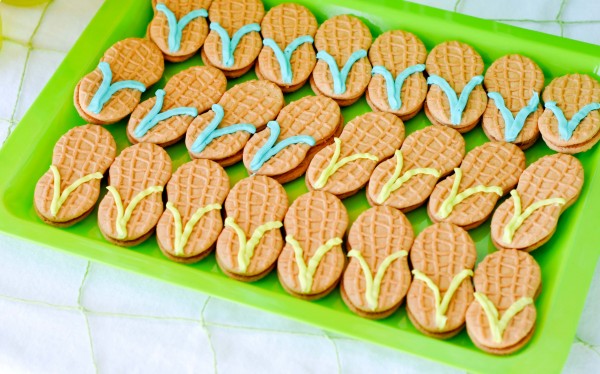 This kids played outside with water balloons, big squirt guns and raced on the slip-n-slide until it got too cold to be outside anymore.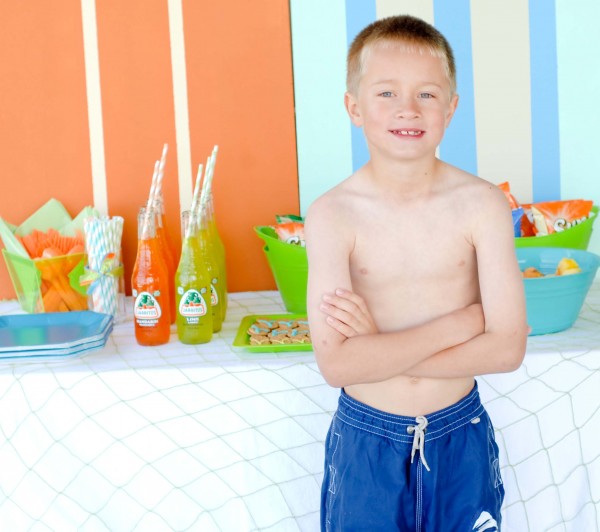 The weather wasn't exactly perfect for an outside water party. You may have noticed the dessert table was set up INSIDE the house with the lanterns on the floor…about an hour before the party started, as I was setting up the dessert table outside, it became really windy and a huge gust of wind knocked EVERYTHING over…ladder, table, surfboards and all!! Luckily I hadn't put anything except the tablecloth on the table yet! I had to move the table inside and thanks to some wonderful friends and family we got it set up inside the house, just in time! I guess that's what you get for June in Utah – you just never know!! 🙂
A big thank you to the always amazing Laura Sheneman for capturing photos of everything!!