About a month ago, a friend of mine asked if I would help her plan a going away party for her son that's going on an LDS mission to Mexico. She was going to be gone the 2 weeks before the farewell and couldn't get everything done before she left. OF COURSE I wanted to help!! She just wanted a few fun little details to make it a special celebration for her son to remember.
I created a couple of inspiration boards (one for the decorations and one for the food), just so she could see some of the ideas I had rounded up. Then we decided which elements she wanted to use for the party.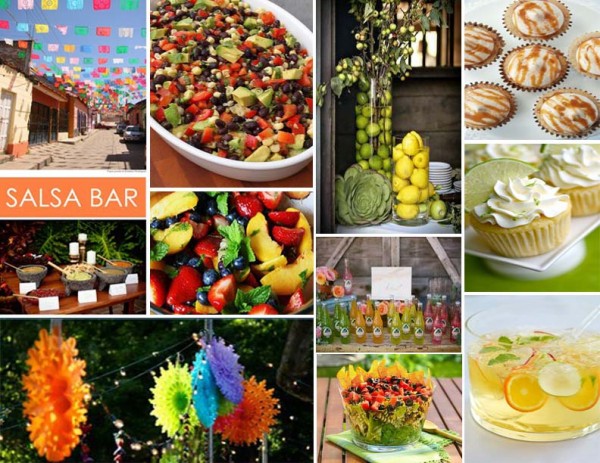 I ordered some papel picado tissue paper banners to brighten up the area where the guests would be mingling. They were an inexpensive way to add some fun color to the room!

For the main food table, I used a white tablecloth with fun fiesta colors of purple, magenta, yellow, turquoise, lime green and orange ribbons running down the center of the table. In the middle of the table was a large glass vase filled with lemons and limes. The food, desserts and drinks were all labeled with bright papel picado food tents I ordered from Inviting Printables.
I used a couple of my glass apothecary jars filled with some bright colored licorice, Mexican fruit jelly, and chicklets to again add some color to the dessert area and tables.
For the drinks, we had a couple of fun things to choose from…Jarritos in all different flavors, Mexican Coke, white grape sangria and water bottles with cute papel picado labels, also from Inviting Printables. The Jarritos and Mexican Coke were a huge hit and both were gone in no time!!



There were a variety of desserts to choose from, including a gorgeous lemon cake, sugar cookies made in both the Mexican flag and papel picado shapes, caramel empanadas, banana chocolate chip and chocolate chunk bundt cakes.



For the main food area, there was a make your own taco bar, a variety of yummy salads, and fresh fruit. There was also a separate salsa bar with 5 different types of salsas, including a delicious pineapple mango salsa and a black bean avacado salsa.
This Mexican Fiesta theme was so fun to plan…I just loved all the bright fun colors and there are so many great ideas to incorporate for a party like this. I hope I get to plan another one sometime!!
By the way, I apologize for the lack of both the number of photographs and GOOD photographs. I was in such a hurry to get everything done before the guests arrived, I didn't have enough time to take some good pictures, sorry!