In case you missed it last week, I shared these fun graduation push-up pops over at the SNAP! blog, so now it's time to share with you!
I can't believe it's the end of May already and that means graduation for a lot of people. Graduation from college, high school, elementary school, kindergarten and even pre-school all call for a celebration! Last year I helped a friend of mine come up with some ideas for a graduation dessert table for her son. She did a FABULOUS job with everything!!
So today I thought I'd share one of the most asked about items on the table…the Oreo Cheesecake Push-up Pops.
If you're not familiar with push-up pops, Courtney Dial of Pizzazzerie (who was a speaker at SNAP! last month) has a book all about them if you want more info or ideas, but they are a pretty popular (and fun!) item on dessert tables right now. The inspiration for these push-up pops came from Frog Prince Paperie's graduation table she styled last year.
To make the graduation caps for the push-up pops you'll need the following supplies:
Black cardstock
Tape
Glue
Scissors (or paper cutter)
Karo syrup
Red Hots
Pull 'N Peel licorice
Step 1: Cut your black paper into 2 5/8″ squares for the top of the hat. Cut 7 1/2″ x 3/4″ strips for the band.
Step 2: Wrap the band around the push-up pop container and tape.
Step 3: Place a small amount of glue around the top edge of the band.
Step 4: Center the band on the square to glue in place.
Peel apart licorice pieces and cut to 2 1/2″ lengths. Attach both the red hot and licorice pieces to the top of the hat with karo syrup.
You can fill the push-up pops with any fun treat like M&M's, jelly beans, mini cupcakes, brownies, etc. Below is the recipe for the Oreo Cheesecake pops if you're interested:
Oreo Cheesecake Recipe
1 package Oreo cookies (16.6 oz) divided
1/4 cup butter, melted
4 packages (8 oz each) Cream Cheese, softened
3/4 Cup Sugar
1 tsp vanilla
1 8 oz. tub Cool Whip, thawed
Chop 15 cookies coarsely. Finely crush remaining cookies; mix with butter. (This is what you will put in the bottom of the push up pops).
Beat cream cheese, sugar, and vanilla in large bowl with mixer until well blended. Gently stir in Cool Whip and coarsely chopped Oreos. Put this on top of your crust in the push-up pop and refrigerate.
Recipe should fill 20 push-up pops.
Put the caps on your push-up pops and place them in a styrofoam filled container to display.
I created these simple graduation circles you can print on sticker label paper to add to your push-up pops and dress them up a bit. Click HERE to download them.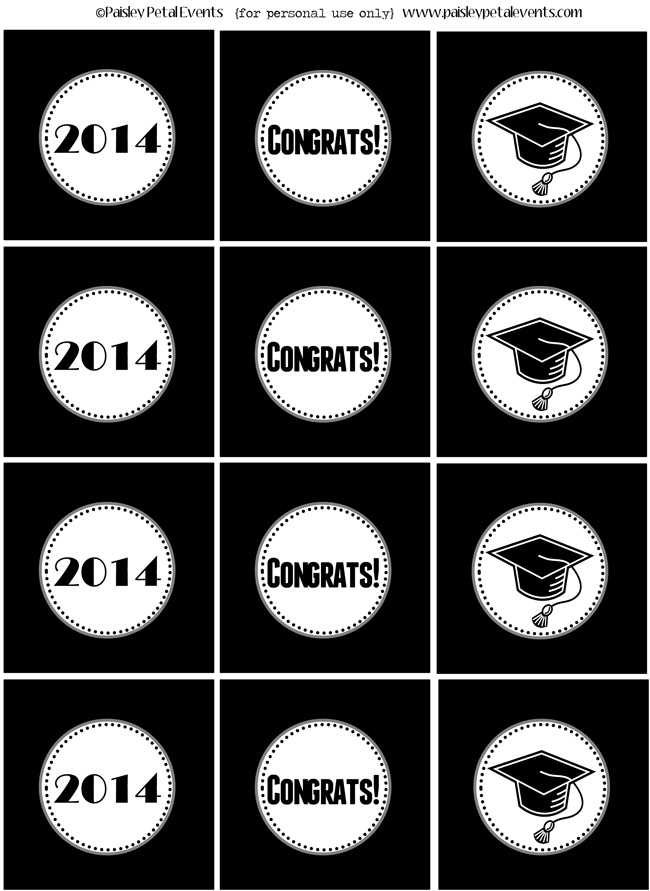 Click on the picture above to download the free printables!
If you're planning any fun graduation parties, I guarantee these treats will be a hit with adults and kids alike!