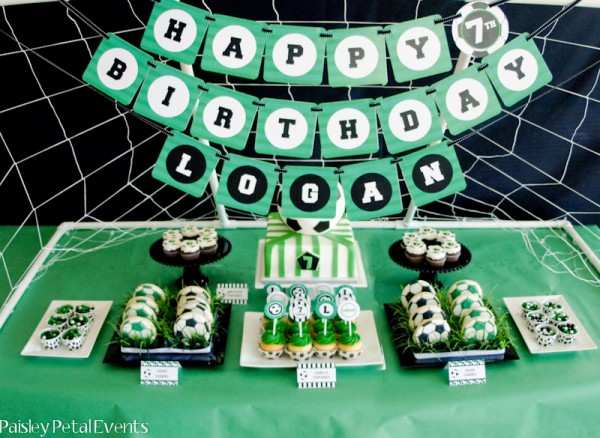 My son Logan turned 7 a few weeks ago and after many discussions about the theme for the party, we agreed on a soccer party because he loves to play soccer. Last year we had a Mario Kart party here at our house which was great, but I learned my lesson…I didn't want 10 little boys running all over my house for 3 hours again! Instead of having the entire party at home, we met at a local "fun center" where the boys received tokens and played arcade games and other fun activities for the first 2 hours then we came back to our house for pizza, cupcakes & presents. It worked out great and I will totally do that again!

I decided to stick with the traditional green, black and white soccer theme because green is one of Logan's favorite colors. I found the perfect soccer printable party package that Tania at Totful Memories had created – it matched my vision perfectly!
When we arrived at our house the boys sat down at the table to eat their pizza and cupcakes. For the main seating table I started with a white tablecloth and created placemats for each boy out of artificial lawn turf. Then I used white electrical tape to create a soccer field on each placemat – the boys thought this was very cool!



I made a tablerunner out of 3 black placemats I had purchased from HomeGoods last year. In the center of the table was a large apothecary jar filled with mini soccer balls which the boys later took home as part of their favors. Also on the table were some of Logan's favorite treats in coordinating black and white colors – a mini donut cake and an Oreo cake. The boys enjoyed munching on these treats while waiting for the pizza to be served.



For the dessert table I started with green butcher paper for the tablecloth to resemble grass and then added all the fun treats – a FABULOUS soccer cake made by Cake Adoration was the center of the table.



Other sweets included chocolate cupcakes with soccer ball fondant toppers from Sweeten Your Day, and green & black soccer ball cookies from Cookie Craving were nestled in plastic grass squares from the Easter section at Hobby Lobby wrapped in white ribbon.




Vanilla cupcakes were placed in soccer ball cupcake liners with a printable cupcake topper, and black, white & green Sixlets were displayed in black and white polka dot candy cups.


The day before the party I decided I needed a soccer goal to put over the dessert table so I went to Home Depot and bought PVC pipe and a white net to make the soccer goal – it turned out great and was very easy to make! Then I hung the printable Happy Birthday banner from the top of the soccer goal.


The favor table included various candies (including Logan's favorite – Tootsie Rolls) for the boys to place in their black chevron favor bags as well as a green water bottle with a cute thank you tag attached.




Guests each had a white paper bag with their name on it to hold all of their goodies. I simply attached a piece of green polka dot ribbon to the front of the bag, placed a printable soccer ball in the middle and attached a name tag with a little green clip.


And I couldn't forget a fun green t-shirt with a #7 on the front for the birthday boy to wear on his special day – he loved it and still wears it all the time!

A special thanks to all of the wonderful vendors that made this party such a success!
Vendors:
Party Styling: Holly at Paisley Petal Events
Photography: Laura Sheneman
Printables: Totful Memories
Cake: Cake Adoration
Fondant toppers: Sweeten Your Day
Sugar cookies: Cookie Craving
Invitation: Stone Love Designs
Chevron bags, straws & polka dot cups: Orson Gygi
Green #7 T-shirt: Cotton Spaceship