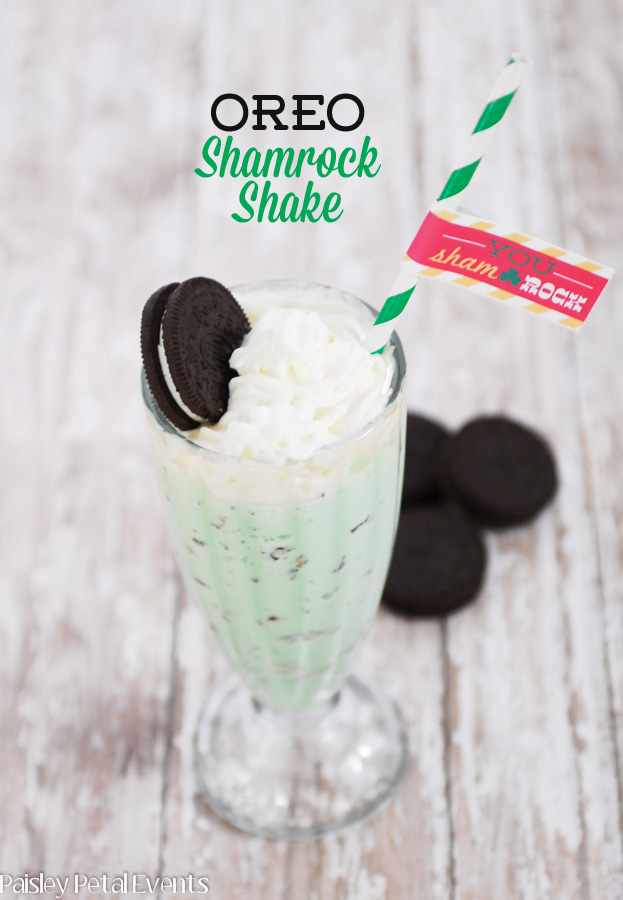 I'm pretty sure I've mentioned my mint love before, but just in case…I LOVE anything mint! Oh yes…remember my Dark Chocolate Peppermint Popcorn??? Yum!! And don't even get me started on those Girl Scout Thin Mints!! You all know about those yummy Shamrock Shakes from McDonald's that pop up this time of year, right? Well, I decided I wanted to make my own at home with an added bonus – Oreos!! Now that, I'm sure you can't resist – an Oreo Shamrock Shake. Delish!!

To make my Oreo Shamrock Shake I used:
2 cups of vanilla ice cream
1/4 cup milk
A tiny drop of mint extract
Green food coloring (4-5 drops)
3-4 Oreos, crushed
Whipped cream (not pictured – oops!!)
Simply add your vanilla ice cream, milk, mint extract and food coloring to your blender and mix well. Now here's the tricky part…crush your Oreos (either by hand directly into your shake, or place in a plastic baggie and crush) and then FOLD the Oreos into your shake. Don't blend them in like I did the first time because it doesn't look pretty, trust me! Spray your whipped cream on top, add an Oreo to garnish and don't forget a cute straw & matching flag (wink).



I had to use the cute straw flags from the Anders Ruff St. Patrick's Day collection I purchased last year – so cute!! I love the pink, gold & emerald green color scheme!

What do you think?? Gonna give it a try for St. Patty's Day next week??? I guarantee I'll be making this again next week, and actually I think it's a delicious, refreshing treat for any time of the year! Mint Oreo shakes are just fabulous all year round!