"This shop is part of a social shopper marketing insight campaign with Pollinate Media Group™ and Wet-Nap but all my opinions are my own. #pmedia #showusyourmess https://my-disclosur.es/OBsstV"

When I think back to summers as a kid, one thing I remember is my Dad's homemade Chewy Chocolate Ice Cream, as he called it. It was a family favorite! It was so rich and creamy and had these big chunks of chocolate fudge mixed in it. And when I say homemade, I mean from scratch and using one of those old-fashioned bucket ice cream makers with ice and rock salt and everything. I decided I wanted my kids to experience grandpa's homemade chewy chocolate ice cream for themselves, so I got grandpa's recipe and even borrowed the original ice cream maker to make it ourselves!


Well, we followed grandpa's recipe and the instructions that came with the ice cream machine and we actually DID make some chocolate ice cream. Now, I must admit, this batch of ice cream we made wasn't nearly as good as I remembered as a child. I didn't mix the chocolate pudding part in correctly, so our ice cream was delicious, but it didn't have the big chunks of chewy chocolate that I so fondly remembered. Now that I've made it once, I'll definitely know what to do differently next time. We still had fun showing the kids how to make homemade ice cream and they thought it was great! I haven't told them that grandpa makes it much better than we do…some things they just don't need to know. We'll just make it again and it will be even better the second time around!

Here's the recipe, in case you want to try it yourself:
Chewy Chocolate Ice Cream
4 eggs
2 1/2 cups sugar
6 heaping Tablespoons cocoa
2 Tablespoons oil
6 cups whipping cream
4 teaspoons vanilla
1/2 teaspoon salt
1 large package Chocolate Pudding Mix (not instant)
Milk or cream to make pudding as per directions on box
1. Make pudding as directed on package and place in refrigerator to cool.
2. Add sugar gradually to beaten eggs and beat thoroughly. Add cocoa, oil, salt and vanilla. Mix till sugar is dissolved. Add cream and mix thoroughly. Add cooled pudding in large chunks to cream mixture. Do not mix.
3. Freeze and "ripen" ice cream per ice cream machine instructions.
Makes approximately 5 quarts of ice cream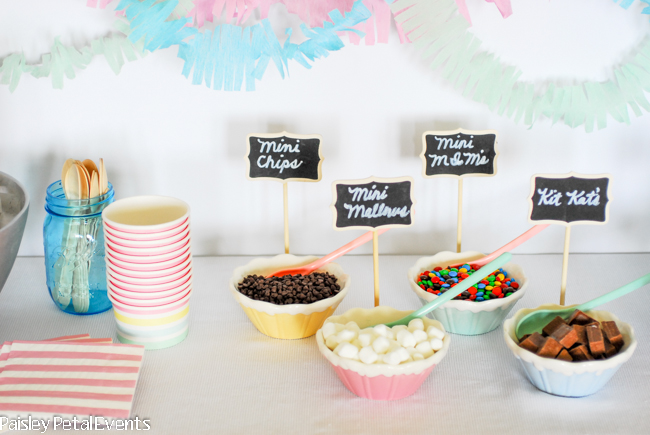 To make it a little more fun, we set up a little ice cream bar with some of the kids favorite toppings and invited a couple of friends over to enjoy the ice cream with us! I used a pastel and chalkboard color scheme to set up our little ice cream bar and the kids loved it.

As is usually the case with kids and ice cream, they're bound to get their hands and especially their faces a little messy. To solve that problem, I placed some of my favorite Wet-Nap wipes in a little bowl at the end of our ice cream bar for the kids to easily grab when they were finished eating their ice cream so they could get those hands and faces looking cute and clean again!

Look how great those Wet-Nap wipes work! It cleaned that ice cream right off of their faces! I LOVE Wet-Nap products and store them in my car and purse because I ALWAYS have a little face or hands that need cleaning! I also love that they're so soft, durable, moisturizing and smell nice.
Right now there's a coupon for $.55 off any pack of Wet-Nap products that you can download HERE. (While supplies last) Then head to the napkin aisle at your local Walmart and pick some up so you'll be ready for that next mess. I guarantee you'll need them sooner than you think!