A few months ago I was asked to participate in a Tablescape event that's taking place at the Deseret News Fall Home Show here in Utah October 10th-12th, which is this weekend! 6 local bloggers are participating and each blogger was paired with a retail store, from which we could gather and display items for our tabletop decor. I was paired with Details, which is beautiful local home decor store located Sugarhouse. Using items I already had in my holiday decor, I found some fun accents at Details to create my Rustic Glam holiday tablescape.
So this week, the 6 bloggers participating were asked to come on our local morning lifestyle program, Good Things Utah, to show a sneak peek of our tablescape designs, and yesterday was my day to be on the show!
As my post title indicates, this is my first time being on TV and I was pretty nervous! When placed in situations like this (spotlight on me!) I always forget what I want to say, my words don't come out how I want them to, etc. etc. Overall I had a great experience! The people at the station were all so nice and the hosts were just as friendly as can be! Of course there were some things I wish I would have said differently or stumbled over, but oh well!
Here's the recording from the show if you'd like to watch it:
If you're local and would like to come to the Home Show at the South Towne Expo Center, you can get a $3 discount by purchasing online and using my special discount code: EVENTS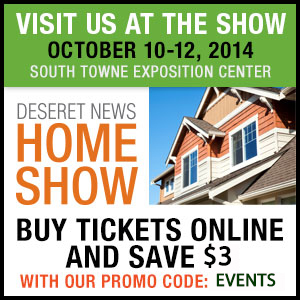 As part of the Tablescape event, the public can vote for their favorite tablescape design and the winner gets a $250 gift certificate, so if you're attending the show, I'd love for you to vote for my table! Or if you attend the show, take a pic of my tablescape and post it on Instagram with the hashtag #ppetablescape – I'd love to see them!