I'm SO EXCITED, I can't even control myself! My little girl Madison's Beach Barbie Party was featured on Amy Atlas Events today!!! Amy is such an inspiration to me…her dessert tables are just AMAZING and I would love to be her someday 😉
The whole idea for the Beach Barbie party came about because Madi's favorite movie (since she got it for Easter) is Barbie in a Mermaid's Tale. She watches it ALL the time! She kept saying she wanted a Barbie party, and with her birthday right at the end of summer, I thought a Beach Barbie party only seemed appropriate.
Madi's favorite colors are pink, purple and violet (that's exactly what she says!) so I knew I had to incorporate these colors into her party theme. When I was searching for printables on Etsy, I came across a Malibu Barbie collection from Cathy at Five O' Five Designs+Paperie and she gladly worked with me to change up the colors of her original collection to match my ideas. Cathy also created this darling invitation to go along with the party theme – it turned out so cute!

The Barbie silhouette and hibiscus flowers were used throughout the party theme, including the dessert table, printables, and favors.
For activities at the party, the little girls colored Barbie pages, decorated flip flops with sparkling jewels, and made charm bracelets. To take all their goodies home, I found these baskets at the dollar store and added the striped ribbon around the bottom, the Barbie silhouette vinyl cutout and the Thank You tag and ribbons to the handle.
Also included in the favor basket were hair elastic lollipops I found at Michaels and a hand sanitizer from Bath & Body Works because Madi is obsessed with hand sanitizer 🙂


After the girls finished their activies, we had hamburgers, hot dogs, chips and fruit for lunch and of course dessert. I found the bamboo placemats at HomeGoods on clearance and then most of the other place setting pieces were purchased from Shop Sweet Lulu (including the blue and white striped plates, pink ice cream bowl, utensils and straws).
I saw those bamboo utensils and thought they would be perfect for the party – so fun! Each girl had a placesetting with her name on it and a water bottle with the cute wrap from Five O' Five Designs+Paperie. I also used a cupcake topper as a sticker to hold the utensils in a napkin.

I found the cute purple tulle poms at Heart to Heart Gifts to hang from the chandelier over the food table. I added some candy in glass containers as decorations for the table as well.


And finally the dessert table. You probably recognize the surfboards from my son's Surf's Up! party earlier this summer. I decided to put them to good use by flipping them over and painting the other side to match the colors of the Beach Barbie party. I added vinyl cutouts of the Barbie silhouette and hisbiscus flowers to keep with the overall theme.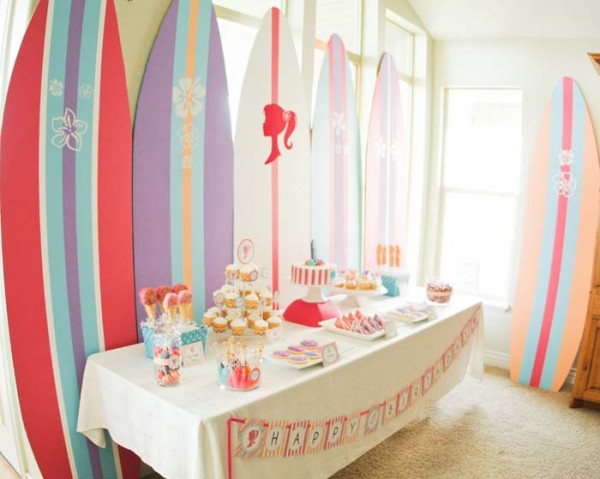 At the center of the dessert table was the darling cake that Jill at Sprinklebelle Cakes made. Again, I absolutely LOVE what she did – she's so creative. I showed her the invitation and printables and she took it from there!

Jill also made these darling cupcakes with fondant hibiscus flowers on tops…so cute!


I'm so happy I found Jen at All Things Exquisite…she can do amazing things with cookies. Her Barbie silhouette and hibiscus flower cookies turned out gorgeous!


I was able to use my cute new cupcake holder that I found at HomeGoods to hold some more cupcakes embellished with cupcake toppers and a large round Barbie silhouette circle from the printables that Cathy created.


Other desserts on the table included these fun fruit ice pops…the girls LOVED these!

Rice krispie treats in the shape of ice cream cones. I found the aqua baskets at the dollar store and just stuck the sticks into foam and covered with white paper shred.
A few glass jars filled with candy in the colors of the party were also displayed on the table for the girls to fill their treat bags with.


I couldn't resist showing you this picture of all the cute girls that came to the party. It was seriously so much fun and all of them were such darling little things. Madi had such a fun time and she's already talking about what she wants for her next party…oh boy!!
And a very special THANK YOU to my amazing friend Laura Sheneman for taking all of these gorgeous photos!


Linking up to: Design Dazzle