My daughter's birthday is at the end of August, right before school starts and with her being in Kindergarten this year, we decided to wait and have her 5th birthday party a little bit later so that we could invite all of her new school friends. Just as we started to plan her party, I received the opportunity to participate in a promotion for the new Barbie movie, The Princess & The Popstar. My daughter LOVES anything Barbie, so the decision about what kind of party we should have was too easy!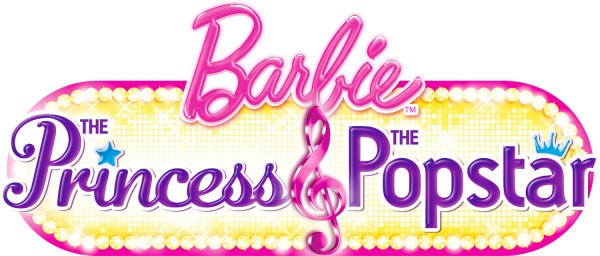 I recruited Debbie from Wants & Wishes Design to design the invitation and all of the other party printables for our party. She was AMAZING and captured my vision for the party perfectly! It all started with these cool "backstage pass" invitations, which all the girls (and mom's) absolutely loved…I got tons of compliments on how fun and cute they were!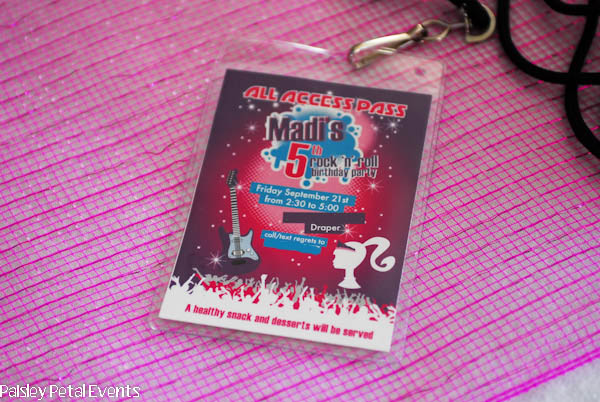 As the girls arrived at the party, they were directed to a seat at the table where some Barbie coloring pages and a box of crayons was waiting for them. The crayons were covered in matching scrapbook paper and a 2″ party circle. Little girls this age LOVE to color so this was the perfect activity for them while we waited for all of the guests to arrive.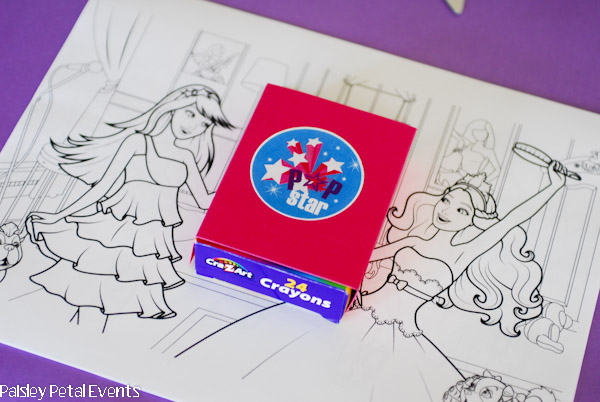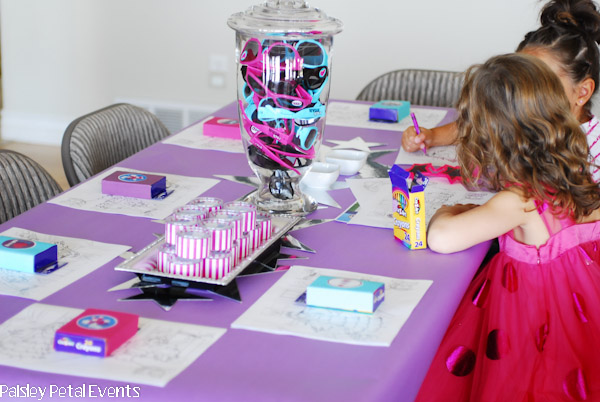 I used silver stars I bought at a local party supply store to serve as a table runner and then added a glass jar full of pop star sunglasses and a tray of little pink and white boxes. They all took home a pair of glasses as part of their favors and the little striped boxes held necklaces we made.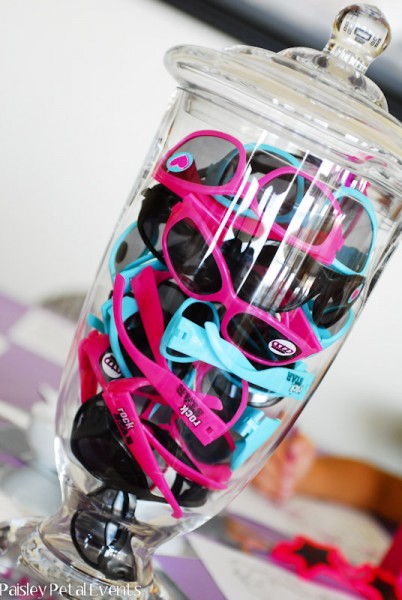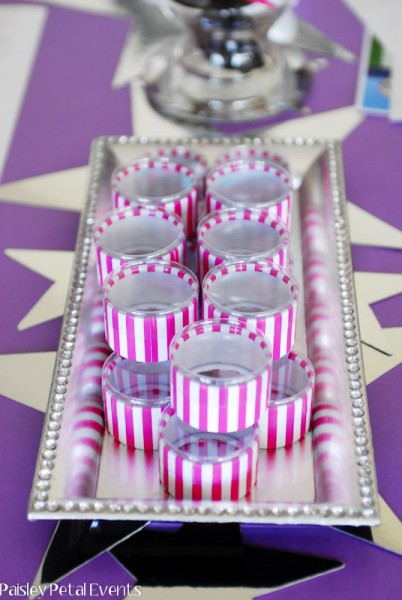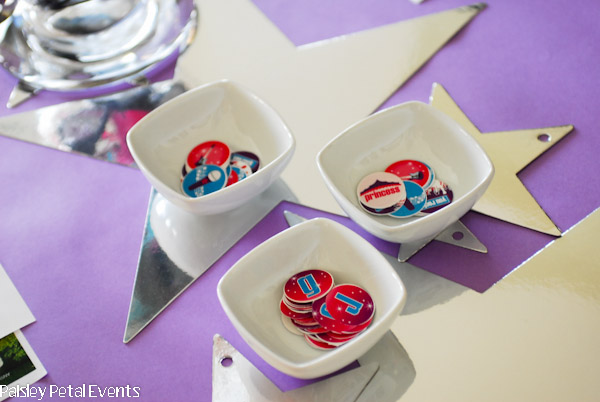 After everyone arrived, the girls ate a snack which consisted of a sandwich, strawberry yogurt, a fruit cup and drinks. The party was held right after school so I wanted them all to have a healthy snack before we dove into all the sweets 😉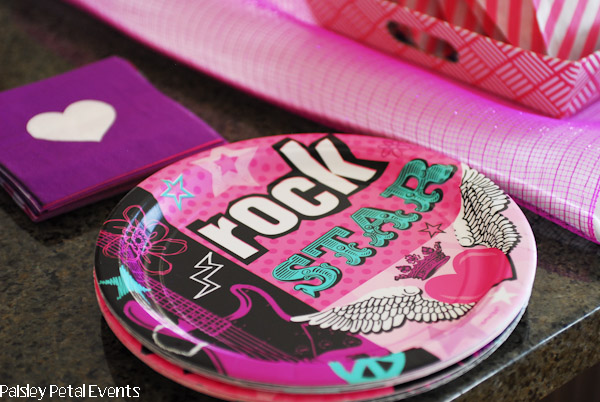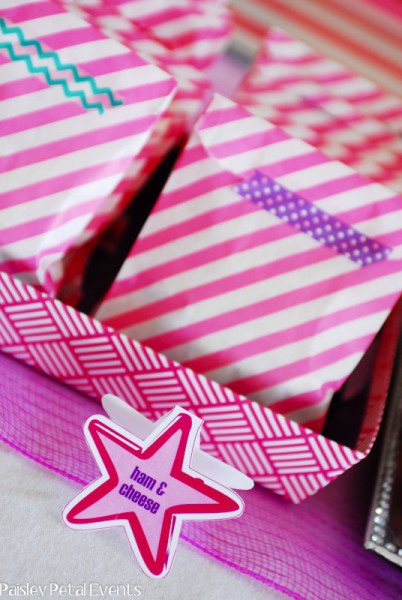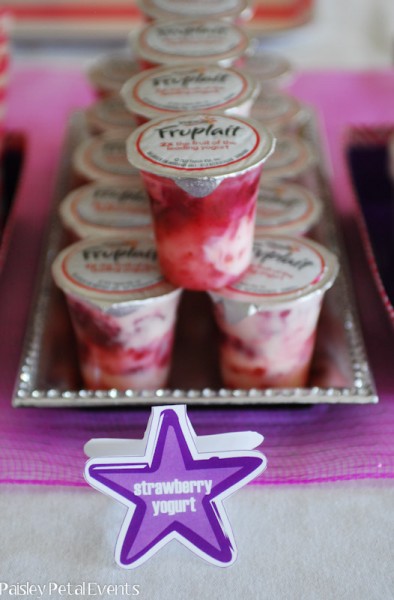 I added more 2″ party circles to the fruit cups to dress them up a bit.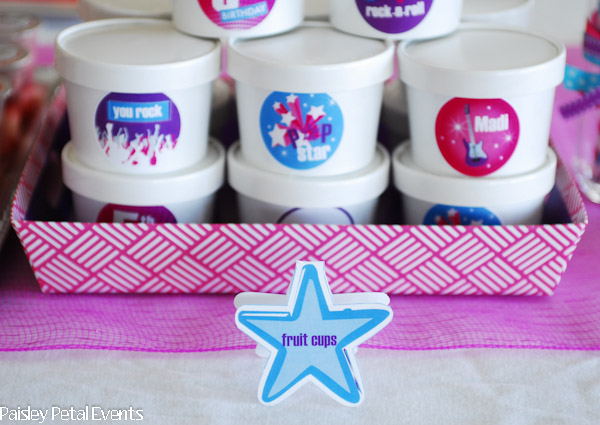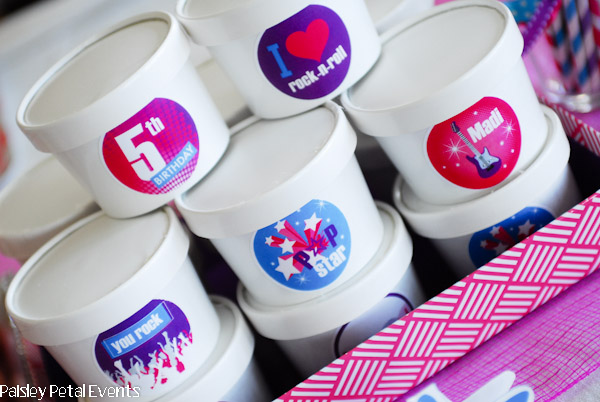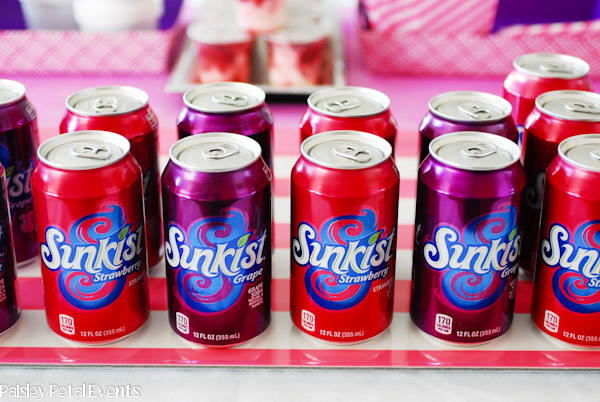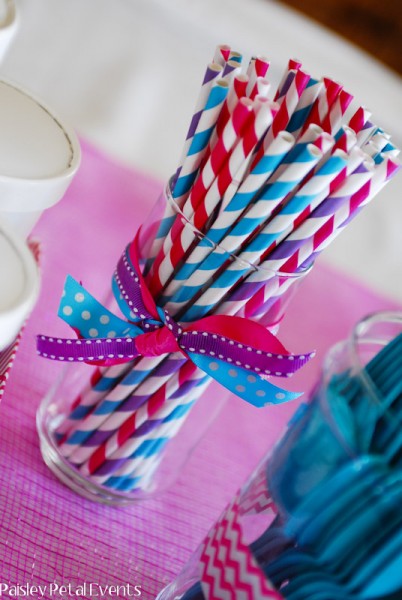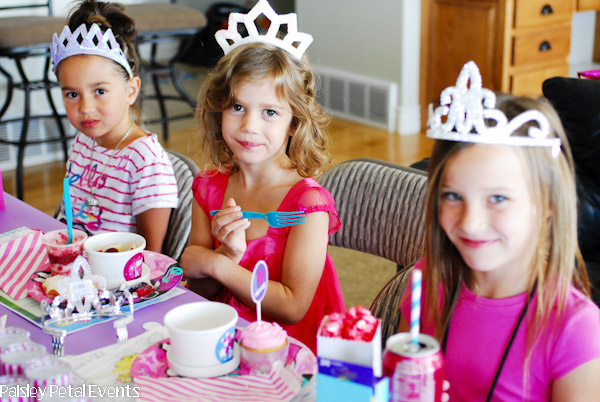 While we were waiting for all the girls to finish eating their snack, they were able to play with the new Barbie characters in the movie, Tori and Keira along with the Barbie The Princess & The Popstar Music & Lights Castle. They were all so cute and absolutely loved playing with the new dolls and castle. They especially liked how the stairs in the castle lit up when you walk on them and then you push a little button and a snippet from the theme song plays.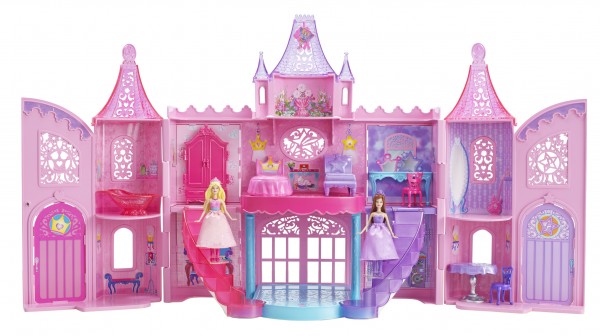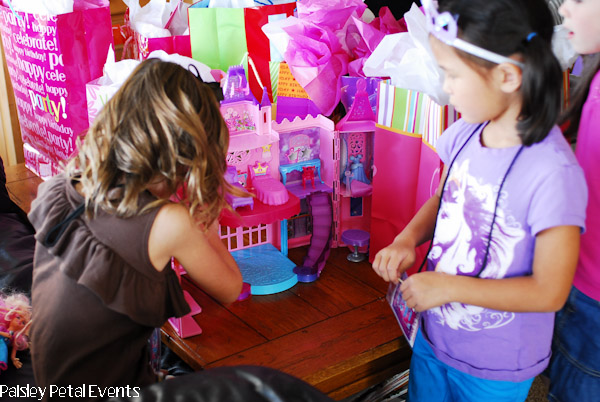 After our snack, we gathered up our popcorn and candy to watch the movie. The girls could choose from strawberry, grape, or white chocolate popcorn and then they filled their bags with all sorts of fun candy to munch on while enjoying the show.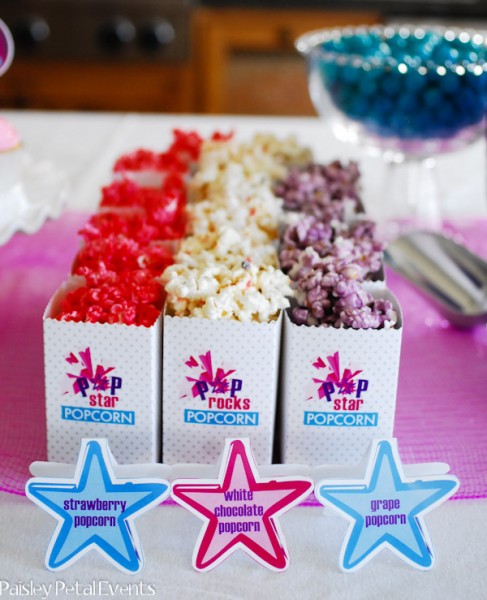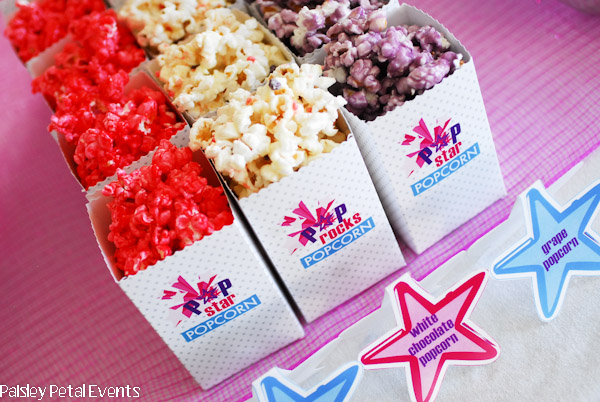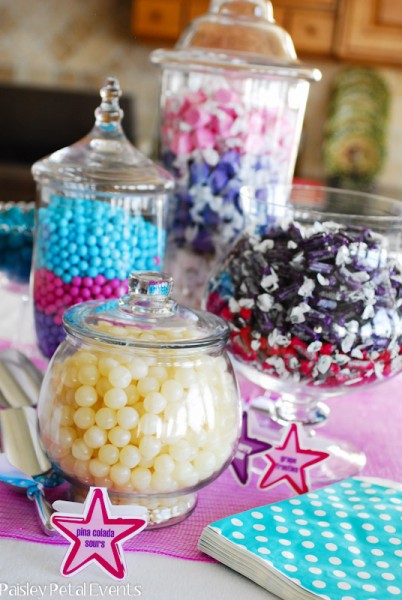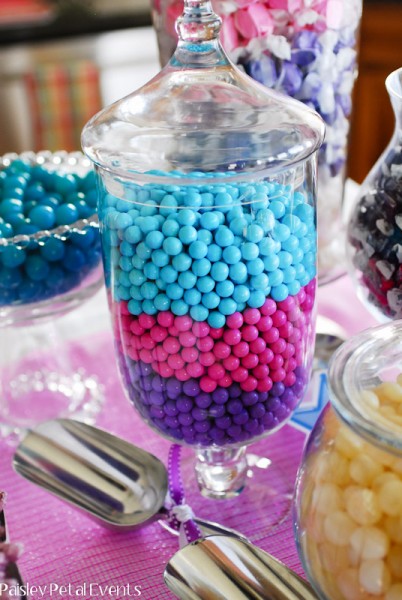 As you can tell, they totally enjoyed the movie and looked so cute wearing their princess crowns, eating their yummy treats.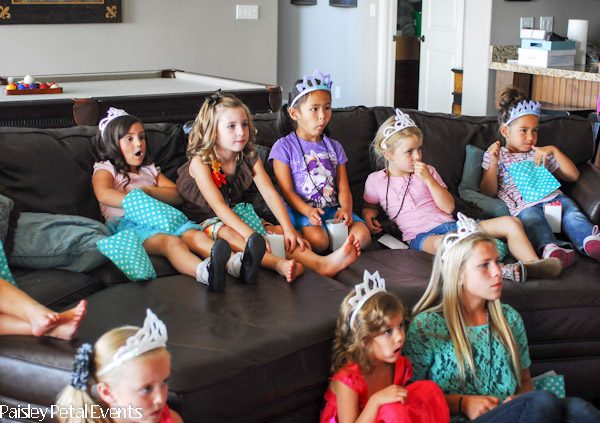 Now it was time for cake, cupcakes & ice cream. My sweet friend Ashlee from I'm Topsy Turvy created THE MOST AMAZING cake for the party! I told her it was a Barbie Princess & The Popstar party and that I thought it would be cool to have a guitar cake and this is what she came up with. I was seriously floored. It was so cool and the girls thought it was the neatest thing!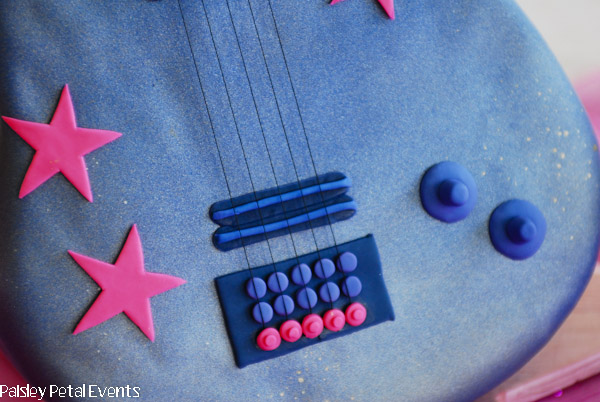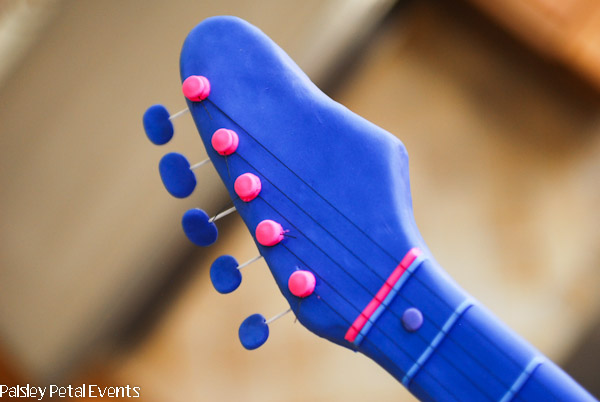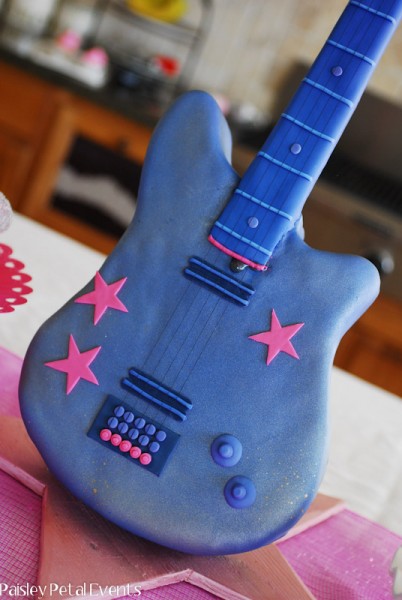 I didn't want to cut the cake, but Madi insisted. It was chocolate flavor inside and it was delicious! We also had vanilla cupcakes with cute toppers for those who didn't want chocolate cake.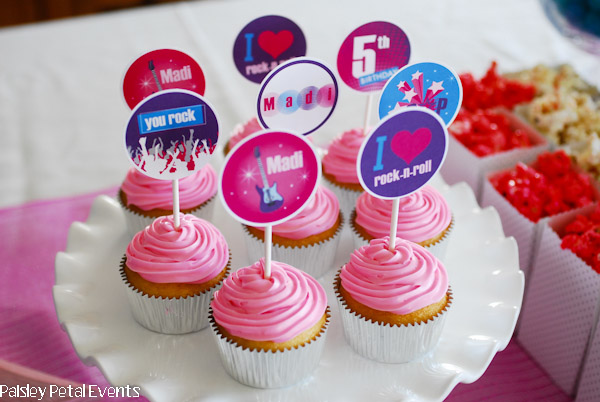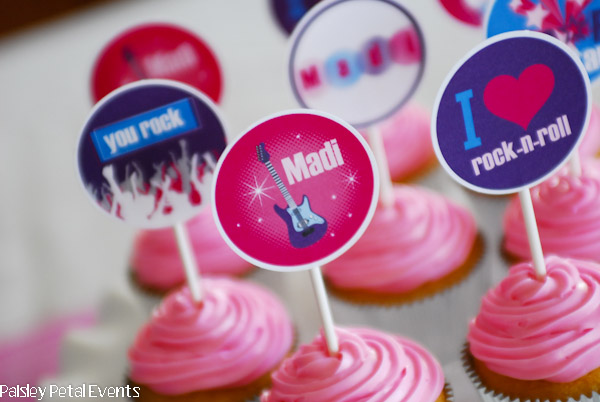 I saw these darling microphone cupcakes here on The Baking Spot and attempted some of those for the party as well. They turned out okay, but not as cute as the professionals.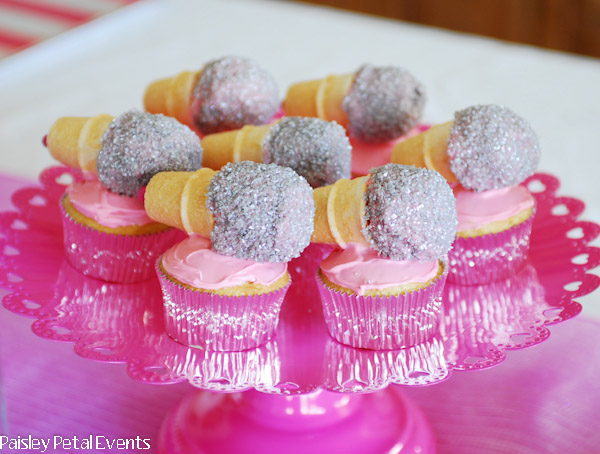 The girls went home with a favor box that I embellished with bright pink ribbon and a large round sticker favor tag that Debbie created. Inside the box was a Barbie Princess & The Popstar fairy doll, sunglasses, a tiara, crayons, bottle cap necklaces & keychains that we made and a CD with some of Madi's favorite songs on it.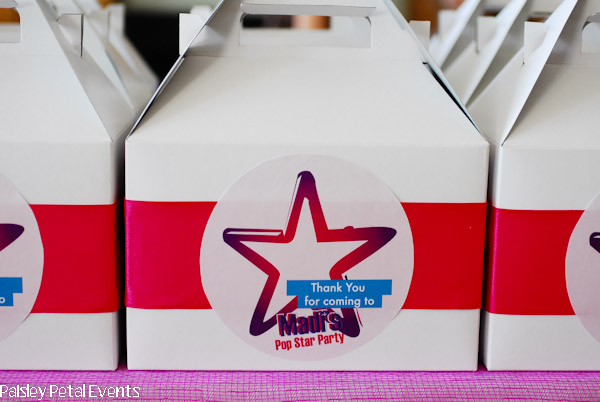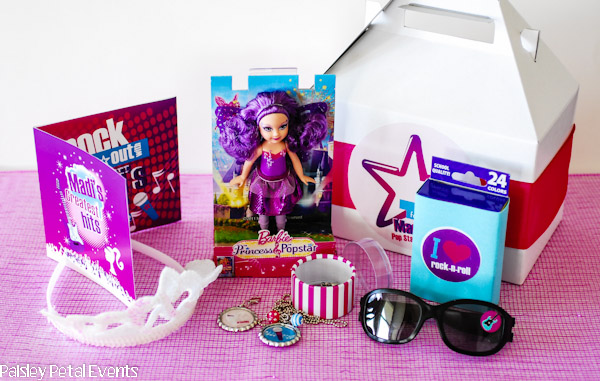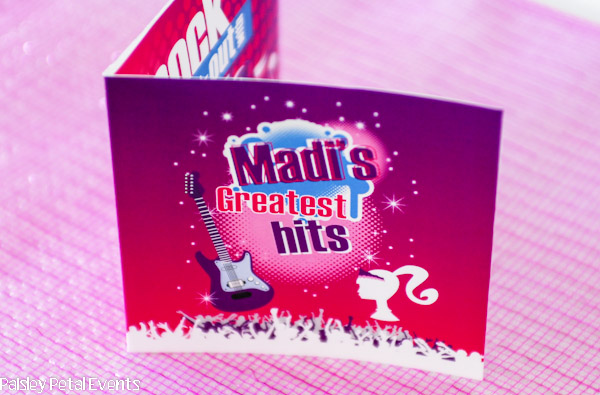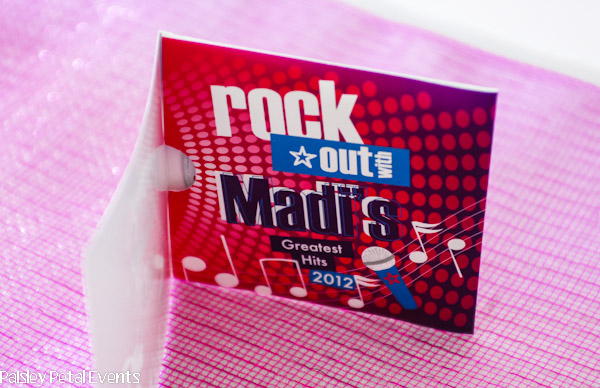 All of the girls (and of course Madi) had such a great time…they were so darling and just loved the new Barbie The Princess & The Popstar movie. I've already been told by a couple of moms that their daughters now want them to buy the movie and dolls. Not surprising!
Vendors:
Invitation, 2″ circles, food labels, favor tags, CD case, 1″ circles, popcorn boxes- Debbie of Wants and Wishes Design
Cake – Ashlee of I'm Topsy Turvy
Gable boxes, sunglasses, pink & white containers, party plates, straws – Zurchers
Pink & white striped bags, white fruit cups – Gygi's
This is a sponsored post from One2One Network. Mattel product and additional incentives were provided to me. All opinions stated are my own.